50/60 Station Road will be among the largest and most modern office developments within Cambridge. Our installation works commenced in November 17 and have progressed rapidly over recent months with 22 nr Mastclimber platforms currently covering all elevations.
The first image shows stick build Schuco FW 60+ curtain wall (area 6000 m sq in total) with insulated backing panels to the spandrel and column areas prior to the installation to GRC installation commencing. The second image shows GRC installation progressing, panels are manufactured by our supplier, Telling, at their Wolverhampton works prior to packing and delivery to site. The Mastclimber build includes a mono rail arrangement from which the GRC units are hoisted into position working from bottom to top, and fixed back to the main structure via stainless steel brackets.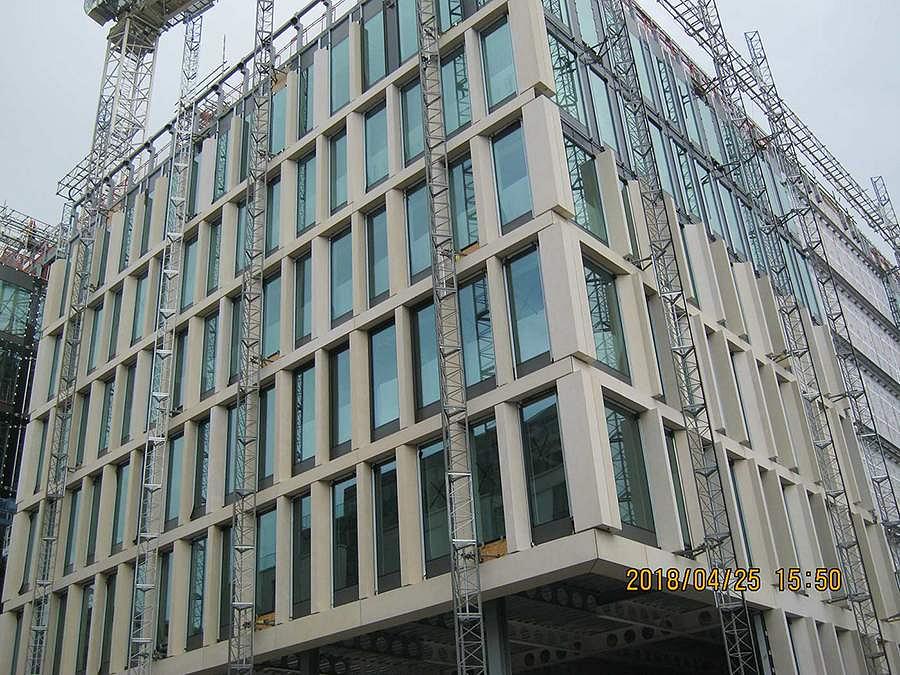 The original design proposals for the project were based on a unitised curtain wall installation followed by "heavy" precast concrete feature beams and columns. Our contractors proposals to move to a lightweight GRC system in front of a stick build curtain wall offered substantial cost savings as well as a huge overall reduction in the weight of the facades. This reduction produced consequential weight and cost saving benefits for the main superstructure due to the lesser imposed loadings from the façade works.
The main contract completion is due in Spring 2019.
Dane also completed the glazed facades to One Station Square in 2017 and 22 Station Road in 2016.